Orpheus-West Chamber Choir: A Salute to Vacaville and the USA
Fri. May 19, 2017 @ 7:30 pm
$15 - $20
Event Navigation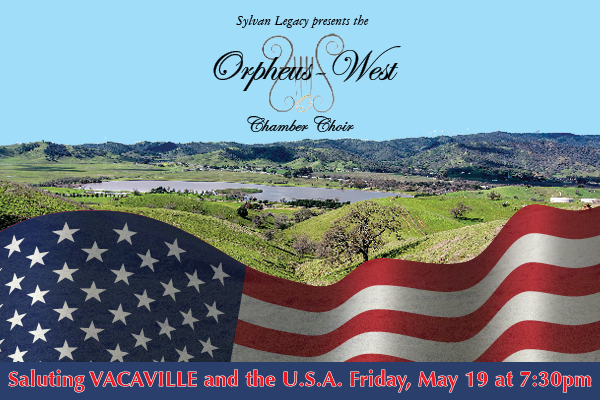 VACAVILLE – Mark your calendar for the performance of the Orpheus-West Chamber Choir as they introduce the NorthBay Bells, five octaves of English Handbells wielded by thirteen experienced ringers, seven of them graduates of the late Sylvan Tintinnabulists.
The NorthBay Bells will herald the start of Vacaville's Annual Fiesta Days playing "The All-American Hometown Band," plus favorites "Now the Greenblade Riseth," Irish traditional "O Danny Boy" on chime choir, and Arnold Sherman's classic, "Grazioso."
The Orpheus Choir, finishing a busy season that has presented programs from Vacaville to San Francisco and in between, will take the stage for a truly "Americana" program: classic choral, patriotic (U.S. Armed Forces Medley), spirituals and gospel, and a true bit of Sylvan Legacy, "The Lord Bless You and Keep You," a long-standing program closer in Sylvan Tradition.
Guest speakers along with Vacaville's past and current mayors, Dave Fleming and Len Augustine will present reflections from noted American writers from Presidents Lincoln and Kennedy to Vaca's own Frank H. Buck.
Joining in this Fiesta Fanfare Concert will be the NorthBay Brass Ensemble playing Copeland's "Fanfare for the
Common Man."
Tickets are $20 per person and $15 for students and seniors.
Orpheus-West Chamber Choir: A Salute to Vacaville and the USA
Friday, May 19th at 7:30pm at the Vacaville Performing Arts Theatre.
For tickets or more information, visit vpat.net.
Related Events