Help Stop Parkinson's in its Tracks at Danville Concours d'Elegance
Sun. Sep 17, 2017 @ 11:00 am

-

4:00 pm

Free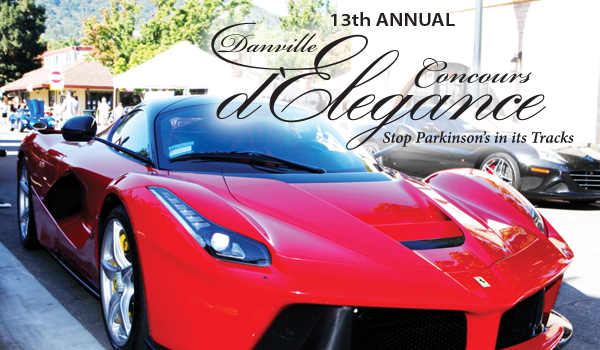 DANVILLE – Take to the streets at Danville d'Elegance to help "stop Parkinson's in its tracks." Since 2004, the Danville d'Elegance Foundation has raised more than $3 million for Parkinson's research and patient care. You can support this mission and those with Parkinson's by participating in a weekend of premiere events.
The Tour d'Elegance takes place on Saturday, September 16. This rally-style cruise begins in Walnut Creek and winds its way through the breathtaking back roads of Napa Valley. Your pit stop for the day will be the AXR Winery, where you'll enjoy an exclusive, catered gourmet lunch. A donation of $250 per vehicle is required with registration.
The annual Gala Dinner d'Elegance will be held Saturday evening at the Blackhawk Museum. This event features a rare evening with Rock and Roll Hall of Famer and Grammy award-winning musical legend Linda Ronstadt, as she shares her personal story: My Life in Music and Living with Parkinson's. Your donation of $325 includes cocktails, fine dining and an auction. Registration is required for this very special evening. Pre-registration online at Danville-dElegance.org is recommended for both the Gala Dinner and Tour d'Elegance.
On Sunday, September 17, the whole family will enjoy seeing the classic, sports performance and exotic automobiles, as well as motorcycles, displayed on Hartz Avenue. In addition to the world-class cars, there will be raffles, food trucks and wine tasting. Admission is free, however, donations are encouraged.
Funds from all events benefit The Parkinson's Institute in Sunnyvale, CA, the Michael J. Fox Foundation, and Team Fox.
Tour d'Elegance
Saturday, September 16, 2017
8:30am at Cole European, Walnut Creek
$250 donation per vehicle
Gala Dinner d'Elegance
Saturday, September 16, 2017
Doors: 5:30pm at Blackhawk Museum, Danville
$325 donation
Concours d'Elegance
Sunday, September 17, 2017
11am-4pm at Hartz Ave., Danville
FREE admission • Donations encouraged
For more information, call 925.360.7275 or visit Danville-dElegance.org
Related Events