Vacaville Jazz Festival 2017
Fri. Sep 15, 2017

-

Sun. Sep 17, 2017

Free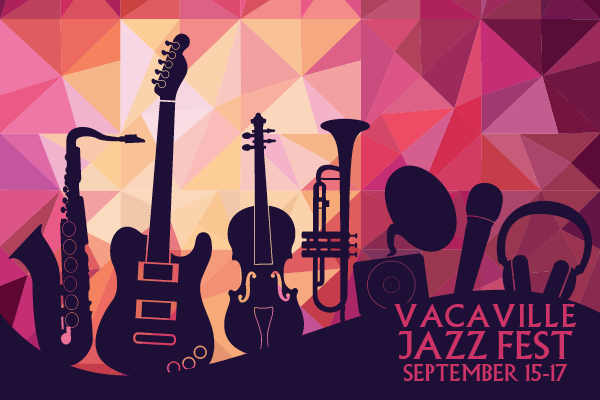 VACAVILLE – The Vaca Jazz Society (VJS) presents it's 18th Annual "Save Our Music" Jazz Festival supporting music events and educational programs in the community.
This is Vacaville's original 3-day performing arts festival with over 30 artists, including 300 musicians at various venues city-wide performing blues, jazz, swing, gospel, bebop, big band, Latin, funk, rock and pop music.
Schedule of Events:
Crossroads Jazz Camps
Sept. 15th, 6-9pm | Sept. 16th 10am-2pm • Town Square
Dubbed "Crossroads Jazz Camps", families can enjoy the eclectic sounds of "Vaca Jazz at Town Square" with Keith Stout's AMO Combo, concluding music with headliner Krohn, Malone & Defazio with saxophonist Ken Stout. Crossroads Jazz Camps continues downtown on Saturday with musical demonstrations led by outstanding jazz groups.
Jazz Spotlight Performances
Saturday, Sept. 16th • 11am-6pm • Nut Tree
Local high school Jazz Ensembles along with local artist Stan Johnson's Band and headliner, J. Harrison B. Band will be showcased at the Nut Tree Village.
Multi-Cultural Music Heritage of "World Jubilee Day"
Saturday, Sept. 16th • 1-10pm • Nut Tree Village
America's tribute to the eclectic music from all nations with the common denominator of "rhythm" is the theme. Featured artists are Delbert Bump, 2nd Planet, Thomas Molina's Nacho & Dollar Menu, Frank Salamone, Pete Ayers and Keith Stout's Alive Music Orchestra. Special musical tributes in memory of renown vibraphonist, Bobby Hutcherson and well-known guitarist, Chuck Berry.
Gospel Jazz Sunday
Sunday, Sept. 17th 1pm • Nut Tree
The Alive Blues Band led by AMO Chaplain Stan Suderow will start the festival's annual Gospel Jazz Sunday with Keith Stout's Alive Music Orchestra featuring Frank Salamone and Pete Ayers performing at 3pm.
Military Tribute
Sunday, Sept. 17th 5pm • Nut Tree
Jazz music abounds throughout the day with a 5pm military presentation with special guest, Mayor Len Augustine, Ret.Col. USAF. Performances by the 60th Air Mobility Comdr. at TAFB paying tribute to active and retired military along with the Travis USAF Band of the Golden West, "The Commanders" concluding the event.
Vacaville Jazz Fest 2017
September 15th through 17th in Downtown Vacaville and at the Nut Tree.
For more information visit vacajazzsociety.org.
Related Events