Daycation to Fort Mason
Waterfront dining, shopping and museum exploring await near the Golden Gate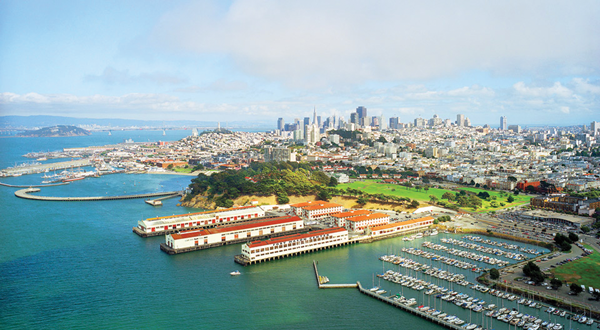 With over 340 miles of the planned 500-mile path complete, the San Francisco Bay Trail follows the shoreline in nine counties, passing through 47 cities and providing breathtaking scenery for hikers, runners, cyclists, skaters and wheelchair riders. On a clear day, some of the best views can be seen from the portion of the trail that runs through Fort Mason in San Francisco.
Part of the Golden Gate National Recreation Area, Fort Mason once served as the temporary City Hall and refugee camp after the 1906 earthquake. Later, it served as the Port of Embarkation to San Francisco before playing a critical part in the movement of troops during WWII. Now, Fort Mason Center is home to several resident artistic groups, two museums and plays host to dozens of cultural events throughout the year.
On Sundays, Fort Mason hosts a Farmers' Market from 9:30am to 1:30pm. Pick up a pastry and coffee, and then head up the stairs to the Bay Trail. Dogs on leash are welcome on the trail. If you prefer to two-wheel it, rental bikes are available in the lower parking lot. No matter what your preferred mode of transportation is, there are all sorts of great sites and stops along the way.
Head east on the Bay Trail and stop at the various overlooks for spectacular views of the Golden Gate Bridge and Alcatraz Island. Aquatic Park, home to the Maritime Museum, is a short walk down the trail. Originally known as Black Point Cove, Aquatic Park dates back to the 1860s, when swimmers first enjoyed its sandy beach and sheltered cove. Today, swimming and rowing are still allowed. Many swimmers brave the typically 55 degree water with only a swim suit. Walk out Municipal Pier to get a great view of the cove. Historic ships, including the Balclutha, are docked on the Hyde Street Pier, which completes the cove on the other side. A guided tour of the historic 19th century ship is $10 for adults and free for those 15 and younger.
If shopping or getting your chocolate fix is on your agenda, Ghirardelli Square is just a few blocks away and Fisherman's Wharf is about a half mile down the trail.
While you're there, be sure to check out some of the residents at Fort Mason, including Reader's Bookstore, featuring used and vintage books, records and posters. Next to Reader's, Goody Café serves coffee, tea and savories. Or stop in at Greens, described by the New York Times as "the restaurant that brought vegetarian food out from sprout-infested health food stores and established it as a cuisine in America."
Museo Italo Americano, established in 1978, is the first museum in the United States devoted exclusively to Italian and Italian-American art and culture. Additional cultural diversity can be found at the Mexican Museum, featuring a permanent collection of over 16,000 art objects including Pre-Hispanic, Colonial, Popular, Modern and Contemporary Mexican and Latino, and Chicano Art.
If you go: Fort Mason is open daily. Museo Italo Americano is open Tuesday through Sunday, noon-4pm. The Mexican Museum is open Thursday through Sunday, noon-4pm. Admission to both is free. Look for more info at FortMason.org.